Welcome to the re-launch of the Quiet Innovation podcast, the show that's all about Great Ideas Hiding in Plain Sight.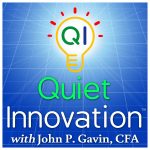 To re-introduce the show, today I start by asking this question:  What do an industrial floor cleaning machine, a sewer system, and solar panels you see on top of roofs have in common?
But first …
What the show is about —
Every day, all around the world, people, companies, and organizations of all kinds are come up with cool and innovative ways to do things. As a professional investor and entrepreneur, I regularly gain inspiration from the many innovations I've come across through the years.
Most of don't make the headlines but they do make a difference   They are great ideas hiding in plain sight.
I love finding and telling other people about them.  On this podcast you'll get to hear about these innovations, and sometimes the stories behind them.
We'll both learn about new things we might not otherwise hear about.  Hopefully, we'll both be encouraged and inspired along the way.
Again, welcome to the re-launch of the QI podcast.